Join us!
INTRODUCTION
Across the world, in developed nations to emerging economies to Third World countries, brands are facing an onslaught of enforced restrictions and evolving challenges from governments and interest groups.
To navigate this maze, to render visibility and relevancy, to allow and keep the power of choice in the hands of the consumer, brands have to walk a tightrope, often without a safety net to manage expectations for stakeholders in the areas of margins, revenue and profit.
PURPOSE

In face of anticipatory proposals over the horizon, the International Advertising Association (IAA) and International Advertising Association Malaysia is hosting a highly engaging Forum on the regulatory environment that has thrown caution to the wind and has an increasingly negating effect on the freedom of consumers in making a choice.
The discussion on 'Regulatory Challenges Facing Brands and Consumers' provides an opportunity for an in-depth assessment and understanding of the current regulatory environment and the implication for brands.
Data and dialogue have such a profound implication on decisions in the normal course of regulatory matters, however, emotional arguments from interest groups, seem, at times, to have a reverberation on policies on the table.
Brands have a responsibiIity to aII constituents, including the consumer, who, especiaIly today, ultimately, own the brand.
Authorised institutions can be expected to have influence over the conduct of business, if only as a referee.
However, if designed as a panacea for social and economic ills, these controls on business and on consumption, gravely threaten not only a democratic way of life, and, free enterprise, but possibly freedom of consumers to think for themselves.
Restricting marketing and communications in some product categories, and, in some cases, banning the availability of some product categories, lead to stifling of intellectual property rights and consumer rights.
In this day and age, is this premise even right by any measure?
ANGLES
To present brand owners and consumers a voice through analysis-based professional dialogue
To engage the regulators on disruptive measures that impact the fluency of conducting business
To enlist the industry on enshrined rights and ethos sacrosanct to brand owners and consumers
To spur stakeholders into developing actionable measures to combat contraband trade
PLATFORM
With the theme 'Regulatory Challenges Facing Brands and Consumers; this Forum provides and opens the platform for a balanced scale of analysis, ideas, opinions, voices and expectations, in an environment of eloquent presentation.
How the thriving illicit industry in certain products dents the nation's exchequer and dents the business confidence of legitimate tax-paying players employing thousands throughout the value chain, will be indulged in at depth.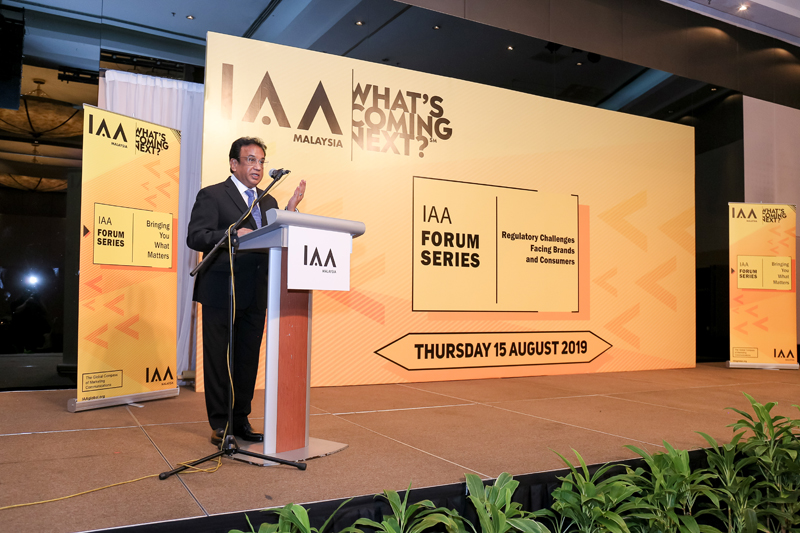 With seasoned professionals from the marketing communications industry helming the panel discussion, the rights of brand owners and consumers will be explored, discussed and deliberated upon to wrestle the ambiguity that masks the perimeters of marketing and promotion.
In essence, this IAA-Malaysia Forum will put forward intelligent opinions on how to manage different roles by different players, and, how, in the immediate and the long-term, a framework can be worked out to determine a fair balance between the commercial interests of brands and the intrinsic interests of society such as consumer protection.
SPEAKERS & PANELIST
Each and every individual invited to participate in the IAA-Malaysia Forum has a pivotal standing in the regulatory and policymaking field, in the industry of products impacted by statutory mandates, in the sphere of brand owners, in the marketplace of consumers, and, in the circle of non-governmental organisations and think tanks.
For the curated audience, whose involvement and position in related fields may be affected by seismic movement no matter how small, this Forum will resonate well with them as anything put forward is beforehand, articulated well.